Previsiones de Olas y Reportes de Surf Mundiales

Surf-Forecast.com provee prevision de ola y reportes de surf para más de 7000 de las mejores playas de surf en el mundo. Tambien proveemos mapas de olas, viento así como un sistema de alerta de ola y viento para Surfistas, Windsurfistas y Kitesurfistas. También mire las webcams de playa, previsiones de viento y nuestro Busca-Ola local antes de ir a surfear.
Delaware Busca-Olas:
Oleaje con vientos favorables
United States Busca-Olas
Oleaje con vientos favorables
Busca-Olas Global de Olas Grandes


Oleaje potente con viento ligero o viento de tierra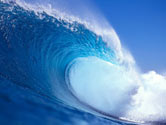 Playas de surf en su región
* Según su ubicación geográfica approximativa (calculada por su dirección IP), aquí están los spots más cercanos a usted. Clica sobre los nombres de los spots para ver sus previsiones de olas.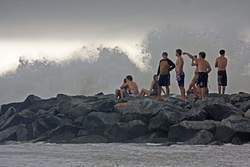 Fotógrafo: Bill Reilly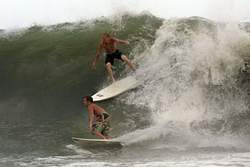 Fotógrafo: Bill Reilly

Heavy locals man for such a poor spot

Coolum:

'Coolum surf: 1.4 metres(5') 10 knots SE. The S protected stretches and E facing points early on the dropping tide before the ESE winds get up. Fun ones in the outer bays at Noosa also on the dropping tide.'

Offshore SW wind with clean long period cyclone swell waves at high tide on Monday evening but very small here: just over knee high. 4 surfers out including a guy surfing a foil. He was getting 200m long fast rides before turning off the wave and pumping all the way back out almost as quickly as he had come in. Unbelievable!
Fotos de Surf
de la galería
Ultimos Comentarios
Cuyagua surf break:
"Es la ola predilecta para los estilos de surf y bodyboard en Venezuela, este spot paradisíaco para los amantes de estas disciplinas atrapa a sus visitantes la 1ra vez que la conocen, también su gente (locales) son muy colaboradores con los turistas que llevan buenas intenciones pues el que lleva malas vibras se las van a despojar a palo limpio! solo quieren que cuiden sus areas playas y rios y todo su ecosistema.
SI AVENTURARTE ES TU OPCIÓN ESTA SERA INOLVIDABLE!"

jose navas "natural" de VENEZUELA - 11 Dec 2020
Haz clic aquí para leer 3 otro(s) comentario(s) sobre Cuyagua o para enviar un comentario suyo.
Arguineguin surf break:
"Llevé a mi pareja para surfear por primera vez en Arguineguin, tuvo que salir del agua por los insultos racistas de autóctonos pq es Alemán. Nos fuimos muy decepcionados y con ganas de esperar a este racista fuera del agua con la policía para denunciarlo. No voy a volver a recomendar este lugar, la zona además está sucia y descuidada."

Patricia de SPAIN - 08 Dec 2020
Haz clic aquí para leer 2 otro(s) comentario(s) sobre Arguineguin o para enviar un comentario suyo.
Zarautz surf break:
"Con buen viento y marea antes y después de pleamar funciona muy bien, entre 1 metro y 2 metros."

jorge de SPAIN - 22 Sep 2020
Mensaje sobre los Spots Secretos
Para este sitio, hemos tratado de incluir los principales spots de surf del mundo entero. Si, según usted, hemos revelado un spot secreto, haznoslo saber y si somos convencidos, lo ocultaremos.