Previsiones de Olas y Reportes de Surf Mundiales
Surf-Forecast.com provee prevision de ola y reportes de surf para más de 7000 de las mejores playas de surf en el mundo. Tambien proveemos mapas de olas, viento así como un sistema de alerta de ola y viento para Surfistas, Windsurfistas y Kitesurfistas. También mire las webcams de playa, previsiones de viento y nuestro Busca-Ola local antes de ir a surfear.
Delaware Busca-Olas:
Oleaje con vientos favorables
United States Busca-Olas
Oleaje con vientos favorables
Busca-Olas Global de Olas Grandes


Oleaje potente con viento ligero o viento de tierra
Playas de surf en su región
* Según su ubicación geográfica approximativa (calculada por su dirección IP), aquí están los spots más cercanos a usted. Clica sobre los nombres de los spots para ver sus previsiones de olas.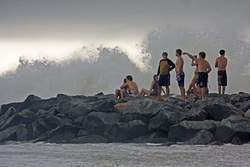 Fotógrafo: Bill Reilly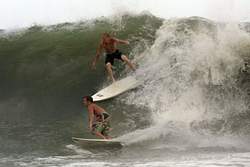 Fotógrafo: Bill Reilly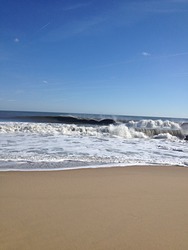 Fotógrafo: Jamie
Surf World Surf Shop Sunday morning surf report. Tullan Strand is 2-3ft with a cross onshore shore wind. Get on it early wind picking up…

https://t.co/SGrRpI08W4

Eyeball Surfcheck:

'Sunday april 22nd 7am - 1-2ft+. Small waves indeed, but right now they are clean and very doable on the morning pushing tide generally ranging in the knee to thigh high plus zone with ultra light cross onshore sw breezes. Get in there for this morning if you can before those winds freshen up. Tides: 7.8m: high: 11:20am - low: 5:25pm.'

PorthcawlSurf (School & Hire)

7.30am Sunday. Rest Bay is about 2ft but surfable with light winds too. There are some bigger sets coming in now and again and we should have about 3ft about 10am, when, unfortunately, it will start to hit the rocks. It won't dop back off until about 2pm and we should have 2ft again, surfable but slightly messy with stronger winds forecast for this afternoon. Coney Beach is less than 1ft but could give us a surfable 2ft around high tide but then almost certainly going back to 1ft fairly quickly with the dropping tide. Actual Wavebouy 2ft 7sec High Tide 11.50am

West Coast Surf Wax

Grey start, light onshore winds and flat....enjoy
Fotos de Surf
de la galería
Ultimos Comentarios
La Lancha surf break:
"por el momento hay bastante gente, por temporada alta..
pero despues de 3 meses estara super solo ... perfecto para las lecciones de surf"

enrique ramirez de MEXICO - 08 Dec 2017
Haz clic aquí para leer 1 otro(s) comentario(s) sobre La Lancha o para enviar un comentario suyo.
Playa de Oyambre surf break:
"Para los que empezamos está muy bien. En verano hay problemas debido a la cantidad de bañistas. Respecto a los perros suelen estar sueltos aunque esté prohibido. Problemas para aparcar incluso atascos para salir de la playa."

mtlc de SPAIN - 28 Jul 2017
Haz clic aquí para leer 3 otro(s) comentario(s) sobre Playa de Oyambre o para enviar un comentario suyo.
Las Caracolas surf break:
"Es muy buena playa tiene una ola con recorrido, hay distintos picos a ambos lados del antiguo castillo siendo uno de los mejores el que rompe frente a este. Acceder al lugar es bastante fácil. Lo único que no debéis dejar vuestras pertenencias en la arena sin ser vigilada por que es muy probable que os roben, yo pensé que no pasaría nada y me robaron ya una vez. También es verdad que el surf está masificado allí, mucha gente en el agua pero bueno a repartir, seguir los "mandamientos" y ya está. Por lo demás muy buen spot donde disfrutar al máximo."

Alejandro de SPAIN - 10 Jun 2017
Mensaje sobre los Spots Secretos
Para este sitio, hemos tratado de incluir los principales spots de surf del mundo entero. Si, según usted, hemos revelado un spot secreto, haznoslo saber y si somos convencidos, lo ocultaremos.