Previsiones de Olas y Reportes de Surf Mundiales
Surf-Forecast.com provee prevision de ola y reportes de surf para más de 7000 de las mejores playas de surf en el mundo. Tambien proveemos mapas de olas, viento así como un sistema de alerta de ola y viento para Surfistas, Windsurfistas y Kitesurfistas. También mire las webcams de playa, previsiones de viento y nuestro Busca-Ola local antes de ir a surfear.
Delaware Busca-Olas:
Oleaje con vientos favorables
United States Busca-Olas
Oleaje con vientos favorables
Busca-Olas Global de Olas Grandes


Oleaje potente con viento ligero o viento de tierra
Playas de surf en su región
* Según su ubicación geográfica approximativa (calculada por su dirección IP), aquí están los spots más cercanos a usted. Clica sobre los nombres de los spots para ver sus previsiones de olas.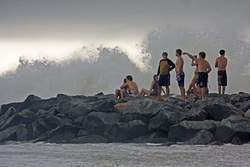 Fotógrafo: Bill Reilly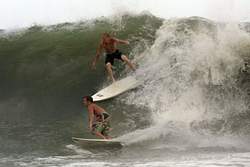 Fotógrafo: Bill Reilly
Coolum:

'Coolum surf: 1.4 metres(5') 10 knots SE. The S protected stretches and E facing points early on the dropping tide before the ESE winds get up. Fun ones in the outer bays at Noosa also on the dropping tide.'

West Coast Local

Sunrise: March 19, 2019 at 06:48AM Partly Cloudy today! With a high of: 22 and a low of:17. Windspeed is 8km/h

Surf Life Saving WA Public report 4.0m white shark sighted 11:38hrs 19/03, Geographe Bay, Busselton 4km offshore , circled boat several…

https://t.co/F9CHsOCxbe

Bali Surf Camp:

'Padang-Padang surf report: The very first steps in all undertakings are very important and sometimes they are most difficult. As well as for surfing which is one of the most physically challenging sports activities much depends on your first attempts in its comprehension and undoubtedly to have an experienced tutor is essential. This morning our beginners groups were learned surfing at Padang Padang Beach. Conditions is perfect for learning, light onshore wind, knee to waist high waves provided amazing surf session. Our Intermediates group learn surfing at black stone beach today. Nice day ...'
Fotos de Surf
de la galería
Ultimos Comentarios
Playa de Cueva surf break:
"Tener cuidado con los coches, porque vi con mis propios ojos ,desde lejos, como pincharon las ruedas de dos furgonetas cuando los dueños estaban en el agua. Ademas, en el agua los locales no te dejan ni una ola , lo pillan todo. Yo no vuelvo a esta playa no se porque hay tan mal rollo ademas las olas por lo menos ese dia eran una mierda y eso que las condiciones eran las buenas. Suerte y buenas olas!!!"

francisco de SPAIN - 26 Jun 2018
Haz clic aquí para leer 1 otro(s) comentario(s) sobre Playa de Cueva o para enviar un comentario suyo.
La Lancha surf break:
"por el momento hay bastante gente, por temporada alta..
pero despues de 3 meses estara super solo ... perfecto para las lecciones de surf"

enrique ramirez de MEXICO - 08 Dec 2017
Haz clic aquí para leer 1 otro(s) comentario(s) sobre La Lancha o para enviar un comentario suyo.
Playa de Oyambre surf break:
"Para los que empezamos está muy bien. En verano hay problemas debido a la cantidad de bañistas. Respecto a los perros suelen estar sueltos aunque esté prohibido. Problemas para aparcar incluso atascos para salir de la playa."

mtlc de SPAIN - 28 Jul 2017
Haz clic aquí para leer 3 otro(s) comentario(s) sobre Playa de Oyambre o para enviar un comentario suyo.
Mensaje sobre los Spots Secretos
Para este sitio, hemos tratado de incluir los principales spots de surf del mundo entero. Si, según usted, hemos revelado un spot secreto, haznoslo saber y si somos convencidos, lo ocultaremos.