Previsiones de Olas y Reportes de Surf Mundiales
Surf-Forecast.com provee prevision de ola y reportes de surf para más de 7000 de las mejores playas de surf en el mundo. Tambien proveemos mapas de olas, viento así como un sistema de alerta de ola y viento para Surfistas, Windsurfistas y Kitesurfistas. También mire las webcams de playa, previsiones de viento y nuestro Busca-Ola local antes de ir a surfear.
Delaware Busca-Olas:
Oleaje con vientos favorables
United States Busca-Olas
Oleaje con vientos favorables
Busca-Olas Global de Olas Grandes


Oleaje potente con viento ligero o viento de tierra
Playas de surf en su región
* Según su ubicación geográfica approximativa (calculada por su dirección IP), aquí están los spots más cercanos a usted. Clica sobre los nombres de los spots para ver sus previsiones de olas.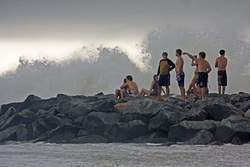 Fotógrafo: Bill Reilly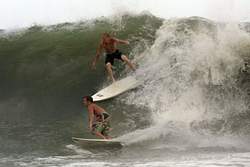 Fotógrafo: Bill Reilly
Lacanau Surf Info Houle longue WNW-NW en légère baisse, vent offshore faible à modéré. -

https://t.co/86ezJQWtO7

PorthcawlSurf (School & Hire)

9am Wednesday. Rest Bay is about 3ft but windy and messy - just a little bigger than yesterday. more of the same for the rest of the day. Coney Beach is about 2ft but a lot cleaner. Worth a look around high tide. Scarweather Wavebouy 5ft 6sec High Tide 1.30pm

West Coast Surf:

'Porth Neigwl: A messy sea state had choppy surf with confused, dropping tide, waves around waist to chest high..'

Eyeball Surfcheck:

'Weds 16th january - 8am - 3-4ft+. Still looking rather messy out here this morning but rideable nonetheless with some cleanish sections to be had and moderate onshore w winds. Try and catch the morning pushing tide for the best of what's on offer folks. Tides: 7.2m: low: 6:50am ~ high: 1:10pm.'
Fotos de Surf
de la galería
Ultimos Comentarios
Playa de Cueva surf break:
"Tener cuidado con los coches, porque vi con mis propios ojos ,desde lejos, como pincharon las ruedas de dos furgonetas cuando los dueños estaban en el agua. Ademas, en el agua los locales no te dejan ni una ola , lo pillan todo. Yo no vuelvo a esta playa no se porque hay tan mal rollo ademas las olas por lo menos ese dia eran una mierda y eso que las condiciones eran las buenas. Suerte y buenas olas!!!"

francisco de SPAIN - 26 Jun 2018
Haz clic aquí para leer 1 otro(s) comentario(s) sobre Playa de Cueva o para enviar un comentario suyo.
La Lancha surf break:
"por el momento hay bastante gente, por temporada alta..
pero despues de 3 meses estara super solo ... perfecto para las lecciones de surf"

enrique ramirez de MEXICO - 08 Dec 2017
Haz clic aquí para leer 1 otro(s) comentario(s) sobre La Lancha o para enviar un comentario suyo.
Playa de Oyambre surf break:
"Para los que empezamos está muy bien. En verano hay problemas debido a la cantidad de bañistas. Respecto a los perros suelen estar sueltos aunque esté prohibido. Problemas para aparcar incluso atascos para salir de la playa."

mtlc de SPAIN - 28 Jul 2017
Haz clic aquí para leer 3 otro(s) comentario(s) sobre Playa de Oyambre o para enviar un comentario suyo.
Mensaje sobre los Spots Secretos
Para este sitio, hemos tratado de incluir los principales spots de surf del mundo entero. Si, según usted, hemos revelado un spot secreto, haznoslo saber y si somos convencidos, lo ocultaremos.